Product Update: August Recap
This past month, we have rolled out a few noteworthy new features to help you streamline image sourcing, spruce up your slideshows to best fit your blog or website, and further activate your audience. Here's what you need to know.
Image grabber: Choosing a pixel-perfect picture for your list
Up until now, users have had the option to include images in their lists by having them scraped from websites, or by manually uploading images from their desktop. With this new feature, you can now have the best of both worlds.
As Carlin mentioned in his last post, our image grabber scours Flickr for a selection of commercially licensed images, so that you can create a list from start to finish without having to shift back and forth between pages or windows.
Here's how you can search for a photo using our image grabber:
Click on the camera icon and then click Search; a slider will pop out on the right side of the screen
Modify your search query by typing in the search box at the top of a slider
By clicking on any image that appears on the slider, the image will automatically be previewed in the background
To confirm, click on the 'Confirm' button or double click on the image. It will then be saved and applied to your list.
Gradient themes: Customizing your slideshow to fit your website
We have added a new option to further customize the look and feel of your slideshow to fit the overall aesthetics of your website.
Under the Typography section when customizing an embedded list, you can select one of two gradient themes.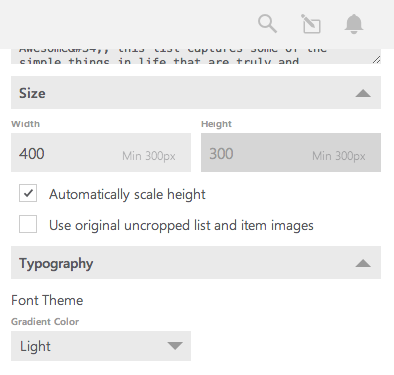 The 'dark theme' is ideal for slides with light backgrounds.
The 'light theme' is ideal for slides with dark backgrounds.
Here's an example of an article on Sitka using the dark theme to go well with their images that have white backgrounds: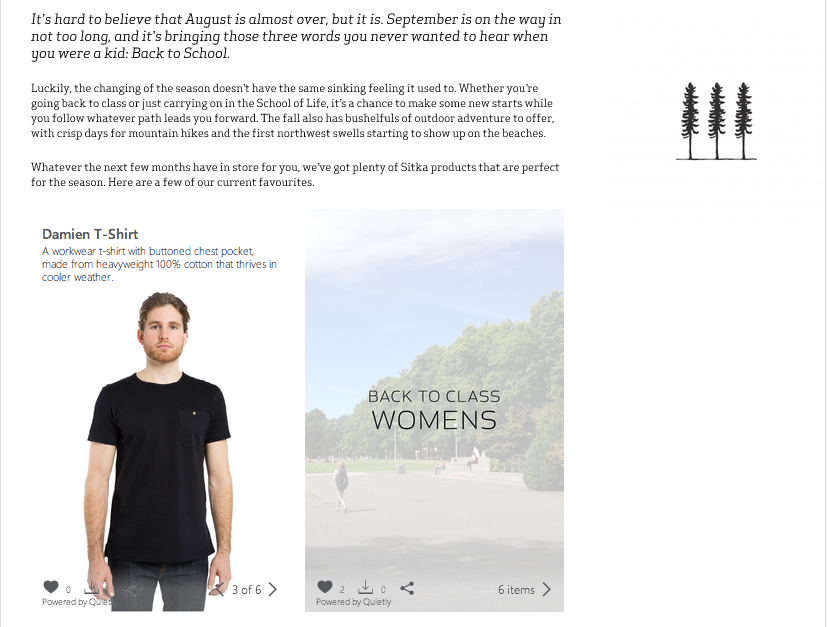 Calls to action: The final slide and beyond
As Emily highlighted in her last post, attaching a call to action to your slideshows is a great way to further engage your audience (granted your CTA is crystal clear.) When sharing content, you must assume your readers know nothing and the CTA you're providing is a clear instruction to provoke an immediate response and meaningful action.
For embedded lists, we provide 3 options for you to customize the CTA on your final slide. Here are each of them in action:
Recommended Stories
Once you've posted at least two Quietly embedded lists on your website, your last side will display other stories you've created. Take a look at this last slide from this article on The Stoner's Cookbook: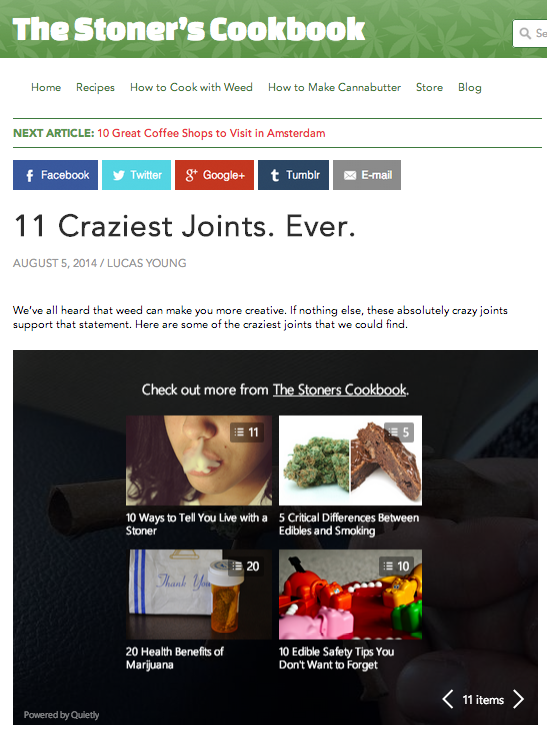 Facebook 'Like' Button
Send your audience to your brand's Facebook page by customizing the final slide with your Facebook URL and a Facebook 'Like' button. As seen on this post, we've used it to encourage you to like our Facebook page (because you totally should if you aren't already):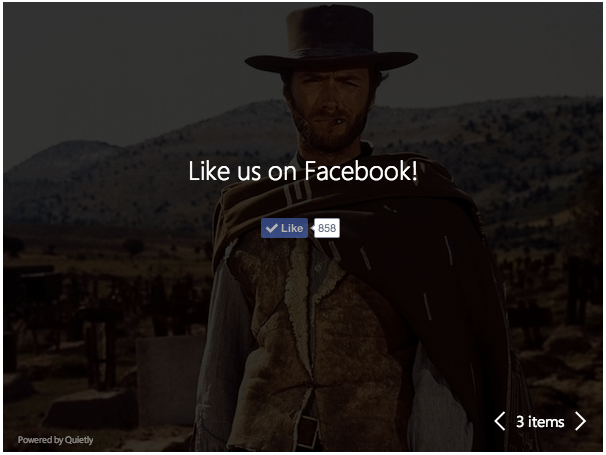 Email Capture
Capture your readers' emails for lead generation, sweepstakes, and newsletter sign-ups. Speaking of newsletters and signing up, here's the email capture slide as it appears on one of our latest posts: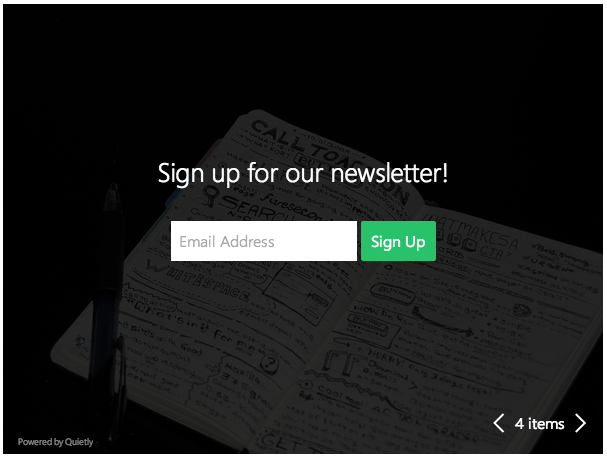 Note: The "final slide CTA" feature is only available for Pro accounts. Learn more about our Pro features here.
For additional step-by-step instructions, check out our comprehensive Knowledge Base.
If you are undergoing anything technically funky, shoot us an email and our support team will get you back on track.
Image Credit: Rosana Prada