Choose Your Own Adventure: Quietly's 4 Display Options
So, you've signed up for Quietly and want to start making great content. But now you're faced with four options: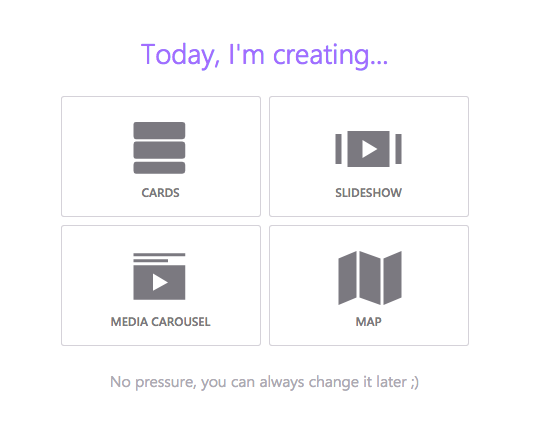 Slideshow
Sure, we've touched on all of these when we introduced them, but let's get into the nitty gritty of what each format is best for, along with some examples. And remember—you can always go and back and forth on our display options when you create content.
Slideshow
https://www.quiet.ly/list/share/97251-14-places-to-eat-artisanal-donuts?settingsId=1%26width%3D700%26height%3D500
Show off photos in a gallery using the Slideshow format. Gather some of your favourite snaps and quickly (and easily) put them into a slideshow that not only looks great, but also seamlessly integrates with your site. The Culture-ist rounds up some tasty donuts in the above example.
Map View
https://www.quiet.ly/list/share/f6c48-10-of-the-best-cheap-restaurants-in-vancouver?settingsId=1%26width%3D550%26height%3D450%26type%3Dmap
This view is great if you're looking to show off a variety of great places around the world or even just in your city. The Map View format allows you to plot all your content pieces on an interactive map that also includes written copy, photos and directions. Plus, it's optimized for mobile viewers thanks to our one-of-a-kind map overlay feature, so you won't get lost in a scroll. The above feature from Vancouver is Awesome is a perfect example.
Media Carousel
https://www.quiet.ly/list/share/2QLc1pSCsTfMwkRRqFnbk8v9g8M3ie0SE0tcADr0l40-celebs-who-ve-done-incredible-things?settingsId=1%26width%3D650%26type%3Dflexible
Want to show off beautiful photos and written copy? The Media Carousel format allows you to have text and images separate for an easier reading experience all within one nice, little package. It also supports video and GIF integration to allow your readers to enjoy interacting with rich multimedia. Fully customize this view with your brand colours, add an 'action' and you're good to go—just like InTouch Weekly's article above.
Cards
https://www.quiet.ly/list/share/8dde6-making-the-most-out-of-your-facebook-ads?settingsId=1%26width%3D480%26type%3Dcards
Incorporate all of the elements of the above formats and you get the Cards format. Whether you choose to have your cards expanded or not, this view is more traditional in style, allowing readers to scroll. It's great for all types of content and can perfectly encapsulate any type of story. This one is from our Best Practices series for making the most out of your Facebook ads.
Now that you have a little bit more background on the four display formats, we hope that choosing what type of content you create is that much easier. Of course, the beauty of it all is that you're always able to change your mind—you can toggle between formats after you've created your content (or even while you're creating it), allowing you the ultimate flexibility.
Image Robert Körner / Flickr