Let's Talk Meta: Metadata Best Practices
What's sexier than metadata? Absolutely nothing. Specifically, metadata works behind the scenes magic for your content, offering snippets of info for your content. To optimize discovery, organize your content and archive that much better, you'll need to practice some metadata best practices.
In this blog post we're going meta about metadata to inform you why it's so important and how you need to use it to stay afloat in a sea of content. Warning: we're going to use the word 'data' a lot. Here's our simple guide to maximizing metadata's capabilities (and meta descriptions) for your content.
What is Metadata?
From the Greek word preposition meaning "after, beyond"—just kidding. In a general sense, meta means about; thus metadata is data about data. (who has produced them, when, what format the data are in and so on). Using computer science for good, it's a way to leverage titles and tags to ensure your content is displayed in a user-friendly and correctly across all channels. Contained in the head section of the page (in most cases), sets of metadata are called schemes or schema.
It's like a secret code but for nerds.
There are two types of metadata, but we will concern ourselves with the latter. Structural metadata is data about the containers of data aka markup whereas descriptive metadata is data about the application of data or the data content. Descriptive metadata is especially helpful for discovery, organization and archiving as it tells the internet (and the people of the internet) what's important. Like, the title, sources, etc.
Most importantly for us content connoisseurs, metadata is the behind the scenes magic that will help your content display properly in search engines and on social channels. It's a useful—and necessary—tool to facilitate the discovery of relevant info across the web.
The Good, The Bad, The Meta
Metadata is a part of the HTML—all of the text, dates, keywords and advanced schemes are within it. Hailed as the last carry over from traditional marketing, the meta description is still important in search engines and social posts. A meta description is the snippet of text that appears under the title in a search engine or under an image in social media posts. Along with text, other elements from the site may show up, like site links and other markup like author photos.
Meta descriptions comprise of 156 characters with bolded text for your keyword search, which is perfect for well-seasoned shortform writers. Still unclear what metadata is? Here's an example of good metadata in search engines:

And in social: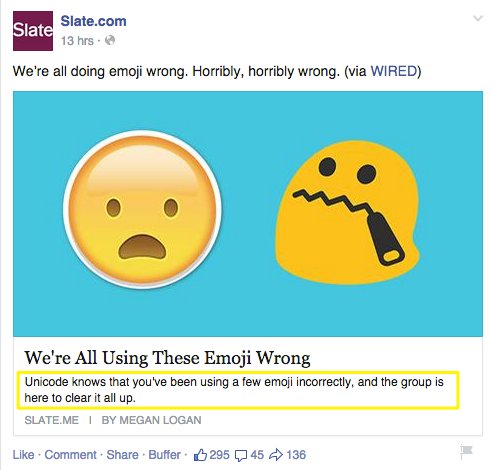 Here's an example of bad metadata: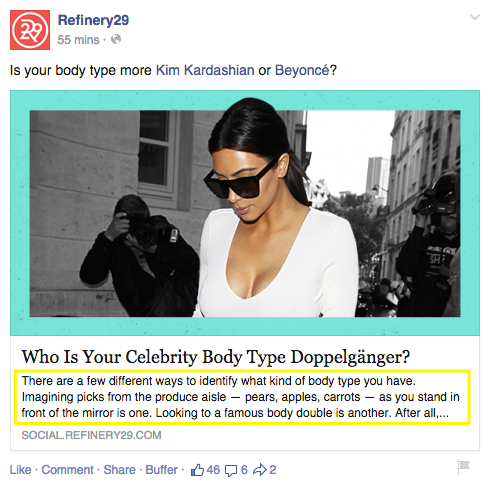 You get the idea.
How You Can Utilize Metadata
You can set up markup within your website's page to ensure social channels are being fed with the correct metadata on Facebook, Twitter, Pinterest, etc. If you really want to up your metadata game, you need to be on WordPress to download Yoast's WordPress SEO plugin (which made our list of favorite WordPress plugins). It's the best in the game and ensures that you control your metadata and optimize for SEO.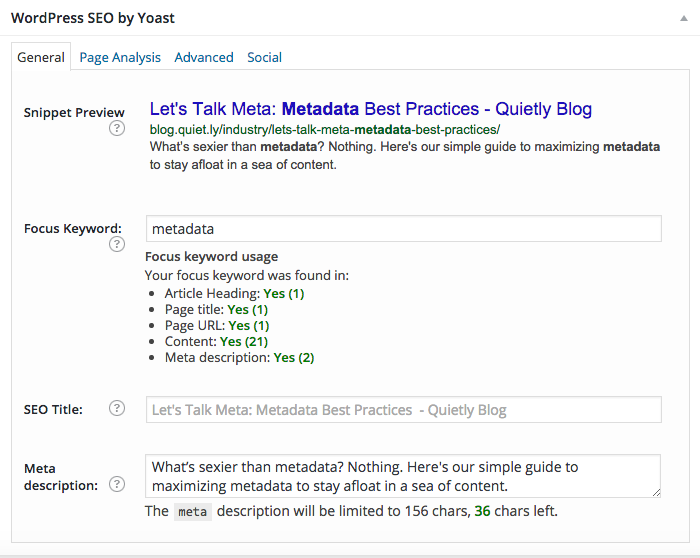 Writing meta descriptions is a great way to summarize your article; think of keywords people would search for when you write the description. Do your research. Search engines have caught on to people trying to use metadata to 'game the system,' but now it punishes those who try to over-optimize.Though meta tags are not a critical part of SEO in 2015 but are still important for classification (and Google even says every page must have a meta description). Remember that a good meta description is a compelling marketing message to click on the web page. For a more in-depth look into metadata and SEO in 2015, check out this page.
And that's all, folks, for metadata. It sure is sexy, but it's also quite simple to implement a noticeable change in your content, both in search engines and on social.
For more other best practices for content, product updates and industry insights, follow us on Facebook and Twitter.
https://beta.quiet.ly/list/share/82661-5-reasons-why-seo-matters?settingsId=1%26width%3D700%26height%3D450
Image Credit: Quinn Dombrowski via Flickr