Content Marketing Round-Up: May 2015
Maybe I was just hungry when I decided to round-up the best food-related content marketing of the month (or reeling from the Mad Men finale, see more below), but now you can share my pain/hunger over these brands and their food content. These food-related brands offer some mouth-watering content marketing, some of which have been excelling at it for years, if not decades.
Here's some of the best content marketing we saw this month: food and drink edition (part 1).
We can't talk food content marketing without talking about Kraft's excellent digital and print presence, which they have tinkered with over the years. An early adopter of content marketing, Kraft Foods produce plenty of food products and recipes to fill whole cookbooks. But they also produce their own magazine, Food & Family, with over 1 million print subscribers and tons of online archive content (for free). Their blog content nails its core consumer concerns, with sections on budgeting, healthy living, cooking lessons and adding a twist on a staple dish. Consistently one of the best brands who understand their customers and content consumers, Kraft Recipes' content knows to be Pinterest friendly, and people friendly.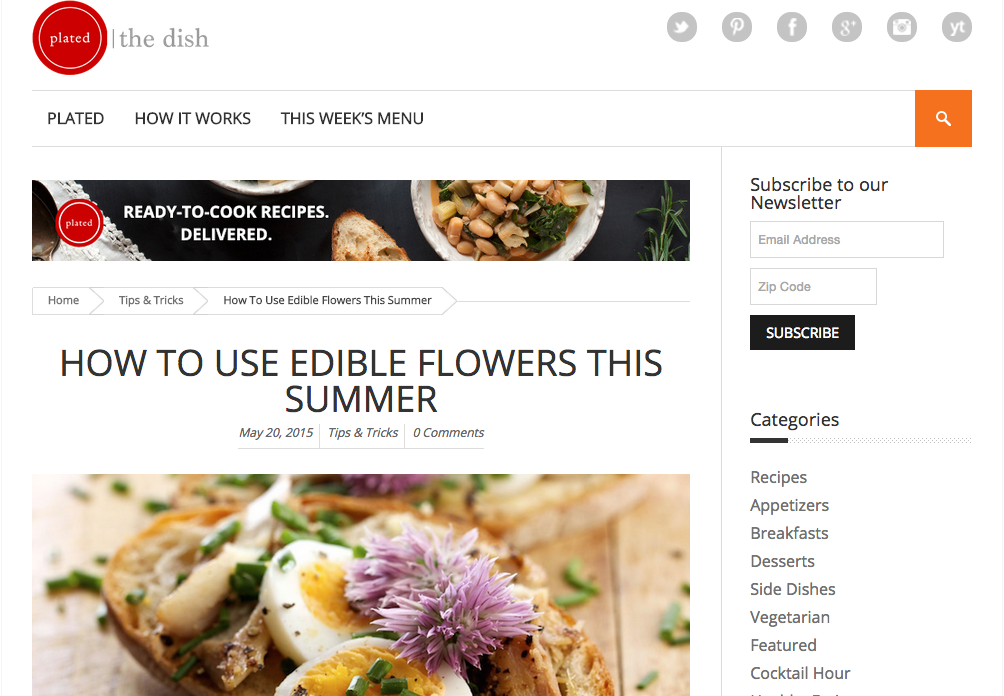 Plated—a startup that sends you fresh ingredients to your doorstep, so you can cook easy healthy recipes in minutes—uses its blog to power idea recipes for its on-the-go users. Pieces like "12 Delicious Dips for Memorial Day" and "How To Use Edible Flowers This Summer" are great examples of food blogging done simply and done well. With a collection of easy tips, recipes, facts about healthy food and party parlor tricks, its content marketing perfectly reflects the company's mission and services without being too on-the-nose.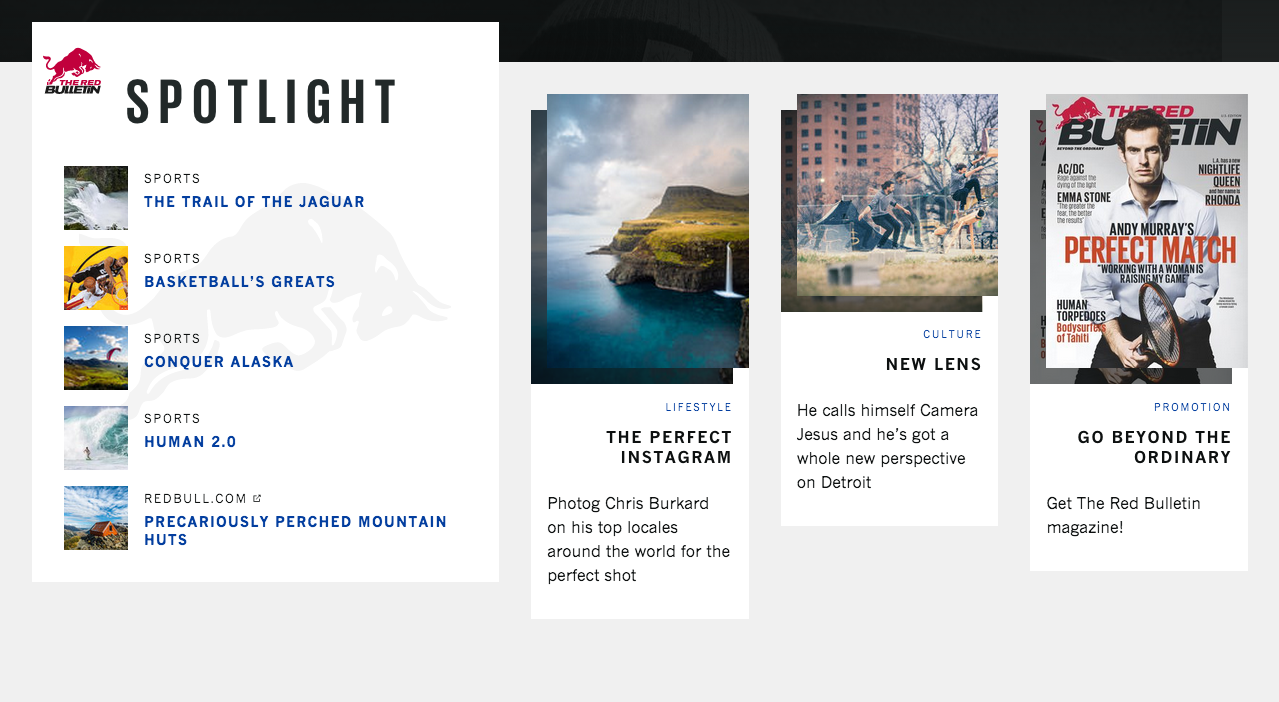 Red Bull counts as food or drink, right? It may just be an energy drink (not according to the FDA), but this my chance to gush about Red Bull's stellar content marketing so let me. Red Bull understands that its fans are daredevils and then some; its content is particularly good at reflecting those wild interests. Appealing to its adventuresome base, The Red Bulletin is a branded publication and collection of fantastic editorial content, ranging from gorgeous landscape photography, personal stories of triumph and extreme (and regular) sports coverage. It's a fine example of excellent branded content.
Coca-Cola and Mad Men (Yes, Seriously)
If anyone hasn't seen the series finale of Mad Men, save yourself and stop reading.
Coca-Cola used to be the biggest brand in the world and it's enjoyed a fine career of producing the best ads of all time. Of course, it's most infamous ad had to appear on the most infamous ad show, Mad Men. Thus begins the most subtle content marketing I've ever seen (and it's art no less!).
In the series finale of our favorite show about 1960s advertisers, Don Draper retires from his big bad corporate job at McCann Ericsson (which holds the Coca-Cola account) to travel across the country, landing in a hippie retreat in California. After facing his personal demons and embracing a fellow wounded soul, Don Draper hums and chants on a hilltop doing yoga. His eyes open, a ding sound is heard—and then the show cuts to the most infamous Coca-Cola ad of all time—the 1971 "Hilltop Ad."
Don Draper definitely wrote that ad (in the canon of the show), and the producers of Mad Men didn't pay Coca-Cola one penny to use that ad. As People reported, a spokesperson for the company has said, "No money exchanged hands." Adding, "We've had limited awareness around the brand's role in the series's final episodes, and what a rich story they decided to tell." Why? Because it's the most brilliant bit of cross-sectional content marketing where all parties benefitted from it.
Mad Men got their rich content in a very open-ended conclusion to its seven season story while Coca-Cola grabbed publicity for content that was made in 1971. It was recycled ad content, but injected into another content machine, it became content marketing. Basically, it was a content marketing mindbender, and it was beautiful. (Can you tell I'm a Mad Men fan and a content marketing fan? Good.) It's meta, it's brilliant, it's Coca-Cola.
For more content marketing round-ups, product updates and industry insights, follow us on Facebook and Twitter.
Image Credit: Jakub Kapusnak via Foodie's Feed